After removing the roll bar and vinyl or cloth, remove the foam using a fine-toothed wire wheel on a drill or disc grinder. Wear a facemask and eye protection because pieces of foam will literally fly everywhere. Scraping the foam off with a razor is not as messy, but will take longer than using a wire wheel. After foam removal, clean the fiberglass with paint thinner or mineral spirits. All remnants of foam must be removed.

Always use foam under the new headliner because the air cells in the foam help to dissipate heat, preventing the contact cement from breaking down. All upholstery shops have thin headliner foam that can be purchased by the yard. You do not have to remove the windshield or rear glass to install the headliner. Use liberal amounts of contact cement. Do not use the aerosol spray can variety - it just doesn't stick as well as the old fashioned brush on type. Apply the centerline (front to back) of the headliner first, then squeegee back to the sides. Do your final trimming after the new headliner is in place. Allow 3/16" to go under the window seals and 1/4" to go under the door seals. Press the headliner under the seals with a suitable plastic putty knife. Be careful not to cut into the headliner.
Door Panels
Door panel upholstery consists of a vinyl sheet with a piece of carpet sewn to the bottom. The upholstery is glued and stapled to the fiberboard door panel.
If the upholstery is in good shape but the door panels are warped, here is what to do. Remove the metal trim where the door lock knob goes through the door panel. Remove the staples from the back of the door panel. Gently peel the upholstery off the door panel. Replace the door panel with water resistant interior panel board. Door panel board comes in 1/8" thick sheets and is available from any automobile upholstery shop.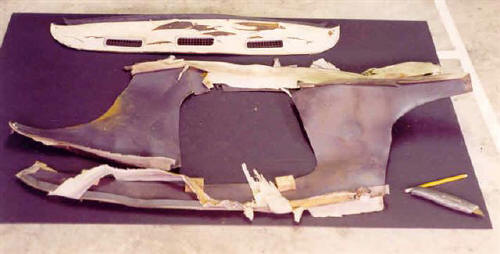 Trace the old panel on the new one and cut out with a razor knife. Drill or cut out new holes for the window crank, door panel clips, pull handle etc. Reattach the upholstery with contact cement. Stapling is not necessary.
If your door upholstery is damaged, go to an automobile upholstery shop to discuss your options. Sometimes the carpet on the bottom of the door panel is in good shape and can be reused. If so, pull out the thread that attaches the carpet to the vinyl and re-use. You can save as much as 50% of the replacement cost by having the upholstery shop sew the new upholstery covers only, using your old ones as a guide and applying them to the door panels yourself. Remember, time is money so if you can do it yourself, why pay someone else to do it? Don't forget to replace the plastic vapor barrier behind the door panels before installation.