VSAAB -- The Vintage SAAB Information Source!
The VSAAB Classifieds
Vintage SAAB Automobiles, Parts & Accessories
Sponsored in part by...
The San Diego Saab Owner's Group
The VSAAB Showcase!
---
Every so often... a SAAB comes up for sale that deserves special attention. Perhaps it's a rare model or it's in mint condition, or both. As a vintage SAAB enthusiast, you make it a point to keep one eye glued to the classifieds. You have saved your pocket change. You have cleared a space in the garage. All you need now is that really special SAAB -- the one you'll be proud to own for years to come.
The VSAAB Showcase will bring you that SAAB!
---

Here's a real rarity -- a nicely restored, solid 96 that has been kept true to its original nature!
1973 SAAB 96 (SOLD!)

Freshly repainted to a very high standard in the original Verona Green, this very sweet example of SAAB's 96 is finally ready for a new home! Purchased from a VSAAB enthusiast in the eastern US and now garaged in sunny southern California, this rust-free car has its original, completely stock and unmolested V4 powerplant -- and very, very low miles... only 89K! Complete with fully operational freewheel, the car shifts smoothly, accelerates smartly and handles well.

The pictures speak for themselves, but the high quality of the paintwork is really only apparent when you see it up close - right down to the new fender welting. To date there has been over $24,000 invested in this car and while that doesn't mean that there's absolutely nothing left for you to tinker with, it does mean that you could buy it and drive it anywhere today -- it's ready to go and looks great!

(click on the images for a much closer look!)

Several spare parts are included with the car:

Heater fan
Headlight trim rings
Wheel trim rings
Tail light lens
Bumper parts &
overriders

Alternator
Starter
Headlight relay
Steel wheel
Misc small spares

The front seats have been tastefully reupholstered and the boot has been carpeted, though the original boot pad is still there. The SAAB-optional front mud mats are included and even the spare wheel has been repainted to match!

For more information,
please contact:

showcase@VSAAB.com

SOLD!
Asking US$14,900
or best reasonable offer!

(Be sure to click on the images for a full-size photo!)

Submitted May 19, 2015
---
A lovely, original 96 in amazing condition! (SOLD!)

1969 SAAB 96

(SOLD!)
An exceptional original example, a rare survivor car, non-restored, just exceptionally well cared for. Repainted once a long time ago in original Polar White. Passed down from one SAAB enthusiast to another, including a stint in the Owl's Head transportation museum in Maine, it was originally registered in Pennsylvania and has a genuine 40,600 miles on the clock. Pristine. Original equipment except for upgraded Weber carb and Petronix electronic ignition. 4 speed column gearshift, red vinyl upholstery in superb condition, Vredstein radials on freshly powder-coated SAAB rims. Shocks, fuel pump, lines, etc., replaced as part of regular maintenance. Original ownership and manual, added period-correct Blaupunkt radio, sisal carpeting, locking gas cap, etc. Drives beautifully, including free wheel device. Brings smiles from everyone who sees it. Bought in Texas in 2010 with 38,873 miles on it, I have driven it only on sunny weekends in summer at home in Toronto, Canada. Garaged at all times, tucked away for winter. Now my boating in summer means I don't have the time to drive it enough any more. A pdf with full details and lots of photographs is available if you email me.
(click on the images for a much closer look!)
For more information

Stephen Thursby
Toronto CANADA ON
416-434-8169

US$12,000



SOLD!
(Be sure to click on the images for a full-size photo!)

Submitted May 27, 2015
---
An exceedingly rare example of a 96 V4 - a Baja promo car, sold by SAAB in 1970 as a "competition-only" vehicle! (SOLD!)
1970 SAAB Rally 96 V4 (SOLD!)

This auto was originally made as a promotional vehicle to increase Saab sales stemming from the Baja races.

It was originally sold in Elmhurst, Illinois and brought to California. I purchased it from the original owner in the mid-70's with 86,000 miles on it.

Six months prior to my purchase, the transmission was overhauled by Paradise Motors in Marin County. Some time after the overhaul, the original owners were told that the car needed a valve job. They brought the car to me for an estimate, decided that they didn't want to do the additional work and I purchased the car from them. I used this 96 as my showroom vehicle and maintained it through my Saab repair business from 1973 - 2003. The car currently has 96,550 miles on it, is currently fully insured and ready to roll!

(click on the images for a closer look!)

Work performed:

Valve job (

86K)

Replaced timing gears and balance shaft bearings (93K)

Replaced the

ring and pinion with a set from a Sonett (93K)

Replaced all transmission bearings (93K)

Repainted in original color in 1980's with acrylic lacquer

This engine is strong and runs really well.

Stock Weber 2bbl carburetor, no accidents, no rot. Please note that in some of the photos, I do have the hood up slightly on the safety latch.

I am also offering another 96 V4 to serve as a future parts vehicle

for the new owner for $500.

(Be sure to click on the images for a full-size photo!)

Submitted April 6, 2011
---
Own the ultimate in SAAB history – a Model 92 in immaculate condition and ready to drive to a new home. (SOLD!)
You can see from the photos that this SAAB Classic is a real showpiece, in mint condition, fully restored and is garaged (as it has been since its arrival in the New World) in a climate controlled environment. The only non-original equipment is the starter which is a modified from a 93b unit. Located in SAAB-country of Upstate NY. A one of a kind opportunity for $7,500. Serious enquiries only.

(Be sure to click on the images for a full-size photo!)

Submitted 11/22/04
---
Here is a superb example of what can be done when you're serious about your Sonett. They don't come much finer than this...
1968 SAAB Sonett V4, #1142

(SOLD!)

Restored
Red
Very few miles on engine and transmission
Rajay turbo
DCOE45 Weber
New exhaust system
Original rear window
This car hauls.

Seriously interested parties, please call Bud at J & B Imports, (714) 282-7378 8AM to 6PM, Monday thru Friday.

Submitted 10/22/04

(Please click on the image above for a closer look!)
---
Rare 1967 SAAB Sonett II two-stroke, serial #121 out of 258!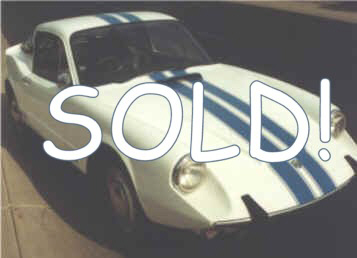 1967 SAAB Sonett II, #121
(SOLD!)
This is a California/Arizona car with NO RUST.
Originally sold through University Motors in northern California, #121 was purchased with it's sister car #122 as part of the Fly-n-Drive vacation with European usage. Luckily, #121 was used by The Wife and never raced or wrecked -- as was the fate of car #122 (documented).
With modifications to the cooling system due to the Arizona heat, #121 has survived with the original dash, seats and a rust-free belly pan, INCLUDING THE BATTERY TRAY AREA!!! The current owner has respected the car over the years and replaced many parts, most of which were New Old Stock (NOS) SAAB parts or proper quality third-party replacements. The car features a state-of-the-art engine rebuild by Bud Clark with many modifications and improvements over the 1950's technology. A great collector car that is sure to increase in value due to its rarity and solid condition compared to all others. Here's a list of some of the work that has been performed on the car in recent years:
Spare-no-expense engine rebuild ($2900)
New cooling fan
New trans mount
Rebuilt alternator
New fuel pumps
New front bumper (NOS)
New front shocks (KYB gas)
New rear shocks (NOS)
New exhaust mounts (7)
New hood seals
New rear brake shoes
New stainless steel brake lines
New engine mounts (NOS)
Upgraded coil
Radiator rodded-out and tested
New fan belt
Rebuilt starter (have spare)
New carpeting
New battery
New Pirelli P3's (5)
Rebuilt brake master cylinder
Rebuilt front calipers
New fuel lines
Etc...
This car is ready to roll and some spare parts will be included.
This is your chance to own a rare stroker Sonett that's ready to drive home!
US$8,900
Click below to E-mail for more information.

Mark Haas (Chandler, Arizona USA)
Submitted 3/17/01
---

Back to the VSAAB Classifieds Menu
---
For non-vintage (Saab 900 & later) classifieds, be sure to check out
The San Diego SAAB Owner's Group Classifieds!
---
All product and trade names mentioned on this site are the trademarks of their respective companies.
©VSAAB, 2015 All rights reserved. VSAAB is not affiliated with SAAB Cars USA or SAAB Automobile.
"VSAAB" is a trademark of the San Diego SAAB Owner's Group, San Diego, California USA.
No recommendations are expressed or implied here.
Last modified: July 01, 2021